Welcome to The Jeffersons Wiki

We are currently editing over 441 articles, and you can help!!
The Jeffersons TV show Wiki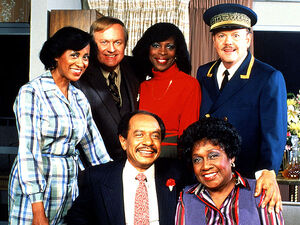 The Jeffersons is an American sitcom was aired on CBS-TV, The series premiered on January 18, 1975, through June 25, 1985, lasting 11 seasons and a total of 253 episodes. The show was produced by the T.A.T. Communications Company from 1975–1982 and by Embassy Television from 1982–1985. The Jeffersons is one of the longest-running sitcoms in the history of American television. The show focuses on George and Louise Jefferson, the former Queens next door neighbors of Archie and Edith Bunker on All In The Family. With the success of their dry cleaning chain, Jefferson Cleaners, they are able to move from their digs in Queens to an expensive hi-rise apartment in Mid-Town Manhattan. The show was launched as the second spin-off of All in the Family, on which the Jeffersons had been the neighbors of Archie and Edith Bunker.
Welcome, TV sitcom series fans!
Celebrating one of television's great sitcom TV series. This wikia is a tribute to the to the now classic 1975-85 CBS-TV comedy series which was produced by Bud Yorkin and Norman Lear, who also brought you such classic TV shows such as Sanford and Son, One Day at a Time, All in the Family, its eventual spinoffs Maude, Good Times, as well as its longest running spinoff: The Jeffersons!
You are welcome to browse what we have, create a new article (just click on one of the many red links you see), fix an existing article, or participate in one of our Community Projects to make the wiki a better information source. We are constantly adding new files to this new wikia. Any information on The Wayans Bros. TV series is greatly appreciated, with as many good reliable sources as you can find.:Add yours
To write a new The Jeffersons Wiki article, enter the page title in the box below.
Featured character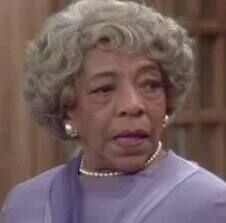 Mother Jefferson (played by Zara Cully) is the mother of George Jefferson and the mother in-law of Louise Jefferson on The Jeffersons; she made her first appearance on All In The Family, appearing in the fifth season (1974-75) episodes titled "Lionel's Engagement" and "Movin' On Up", which would serve as the pilot for The Jeffersons series. Her character, would be spun-off into The Jeffersons spinoff in January that same season. More:>